TOYOTA HIACE VAN CONVERSION

A STEALTH CAMPER THAT CAN STILL BE USED AS A VAN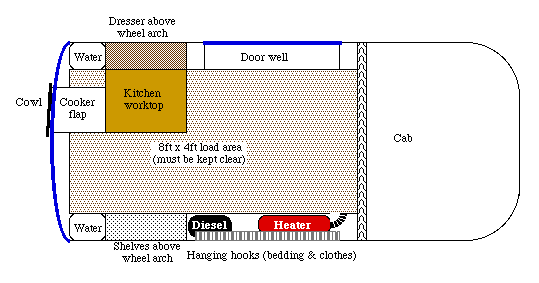 PLAN OF LAYOUT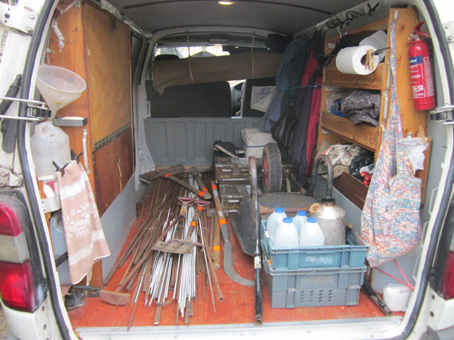 LOOKING TOWARDS THE FRONT IN 'INDUSTRIAL' MODE
Note the carpet rolled up and slung from the roof.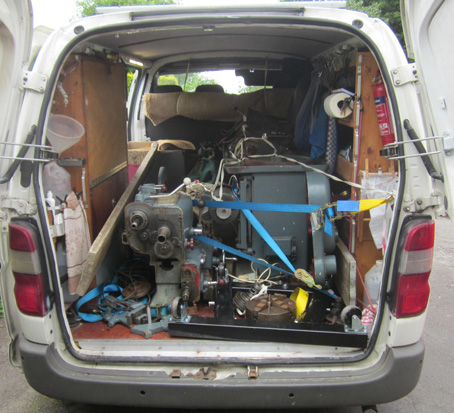 WITH THE LOAD SPACE FILLED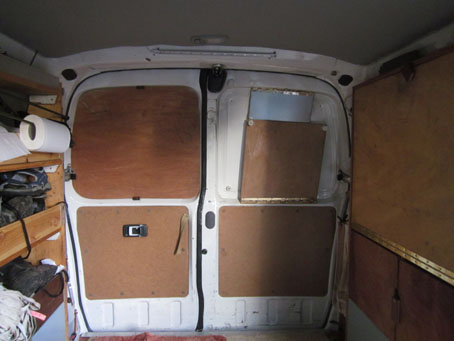 LOOKING TOWARDS THE BACK IN 'INDUSTRIAL' MODE
The load space is completely free.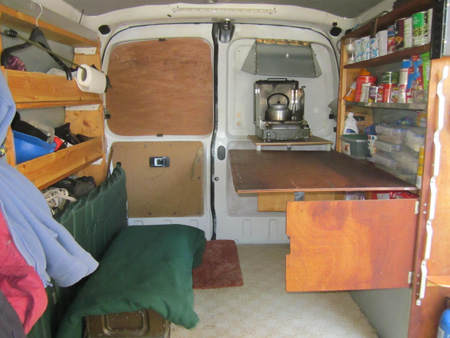 THE SAME VIEW IN 'DOMESTIC' MODE
From left to right::
Shelves with removeable fronts above wheel arch
Air bed used as a seat back
Ammunition boxes with blanket to form a bench seat
Strip lamp above doors
Cooker hood and platform hinged to door
Cooker platform pegged into worktop
Worktop hinged down from dresser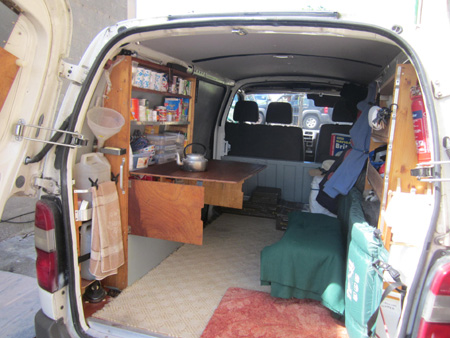 LOOKING TOWARDS THE FRONT IN 'DOMESTIC' MODE
Left to right:
Water pumping and sink arrangements
Dresser with worktop supported on open cupboard doors
Side door with strip lamp above
Low bulkhead to allow access to cab but retain load during braking
White canvas cover over portable toilet
Coats and bedding hung from hooks
Ammunition boxes covered with blanket to form bench seat
Air mattress as seat back
Shelves
Fire extinguisher
Waste bag with water container below
Milk cooler (not easily visible)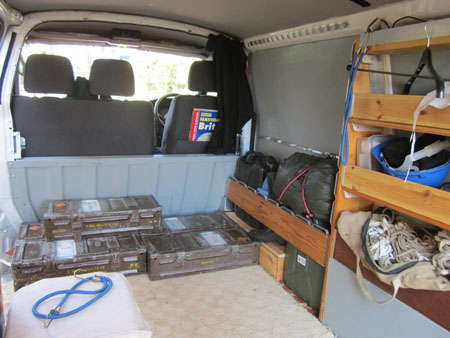 LOOKING TOWARDS THE FRONT
Left to right:
Portable toilet under white canvas cover (restrained in transit by a bungee to prevent overturning)
Tools and stores in ammunition boxes
Black curtain on overhead track to close off the cab for privacy
Diesel heater boxed in at floor level with black jerrycan of water on top
Blue dustpan & brush, wellies
Green jerrycan of diesel for the heater with green sleeping bag on top
Hooks for clothes and bedding with crinkled aluminium strip for tie-down points
Shelving over wheel arch with clothes hanger rail along top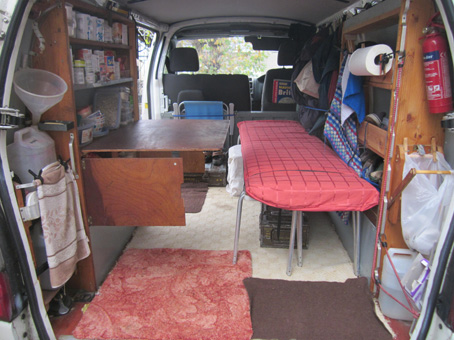 BENCH SEAT
Made from two narrow folding-leg benches side by side with
a self-inflating mattress inside a spare duvet cover.
Straps over the cover to stop it sliding about.
Useful storage space underneath -- or the benches can easily be
removed ad stored elsewhere if the whole floor area is needed.
The mattress deflates and rolls up, completewith cover, in a kit bag.
---
THE SINK
From top to bottom:

Water delivery spout fixed with a magnet to allow adjustment and relocation where needed.

Funnel for catching waste water

Space for door stay mechanism and soap dish

Waste water container

Towel rail with towel

Clean water container

Foot-operated water pump
---
ELECTRICS
From top to bottom:

12v power points

200W inverter with 2 x 240v power points
and 4 x USB power sockets

Carbon monoxide alarm & thermometer

Aluminium crinkle strip and bag hanger

Emergency rechargeable torch

Alarm clock (can be removed and fixed on dashboard

Shelf

Fire extinguisher
---
THE HEATER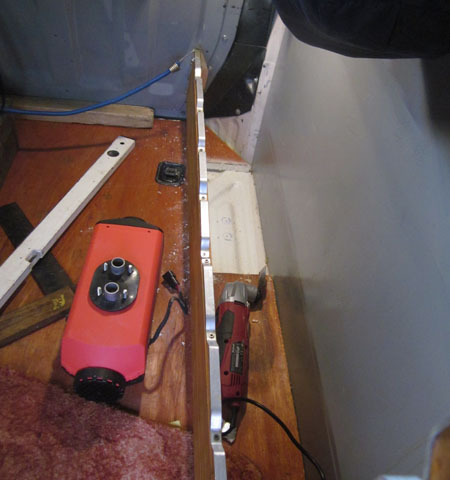 PART OF WOODEN FLOORING AND INSULATION CUT AWAY
TO ALLOW THE HEATER TO BE DIRECTLY MOUNTED ON THE METAL FLOOR
HEATER FITTINGS UNDERNEATH THE VAN
From left to right:
The combustion air intake filter
The combustion air intake silencer
Flexible couplings to the heater unit above
Heater exhaust silencer
Heater exhaust pipe discharging underneath sill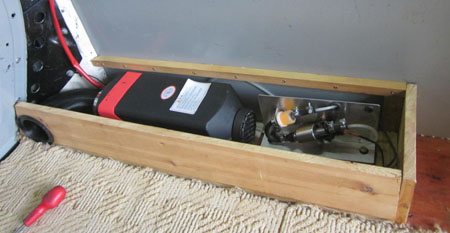 HEATER INSTALLED
From left to right:
Warm air outlet hose
Bulkhead drilled with holes for air intake (cowl fitted later)
Red supply cable from 15 amp protective isolator on dashboard
Heavy earthing terminal
Warm air outlet end of heater
Heater body
Cold air intake grille to heater
Filter and pump on spring mountings to reduce transmitted noise
Lead-weighted mounting plate
Floor space for diesel jerrycan
---
THE COOKER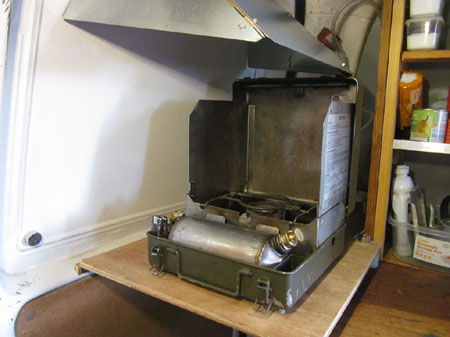 THE "BRITISH ARMY NO.12" DIESEL COOKER IN PLACE WITH HOOD ABOVE...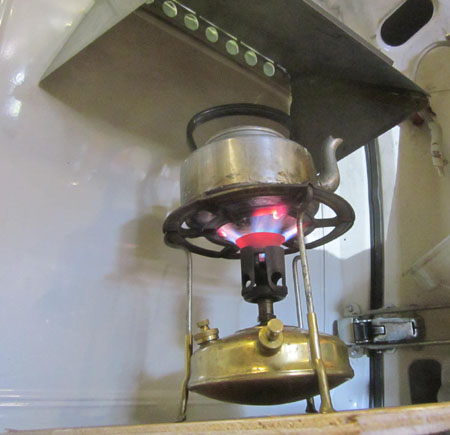 ...OR A SVEA 106 WHICH WILL RUN ON DIESEL
VENTILATION HOLES IN DOOR
AT APEX OF HOOD

COWL OVER VENTILATION HOLES -
THE ONLY CLUE THAT THIS IS A CAMPER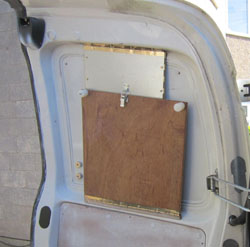 COOKER HOOD AND PLATFORM FOLDED UP AGAINST DOOR
Ventilation holes covered to prevent draughts
---
BEDROOM
Cab curtain drawn for privacy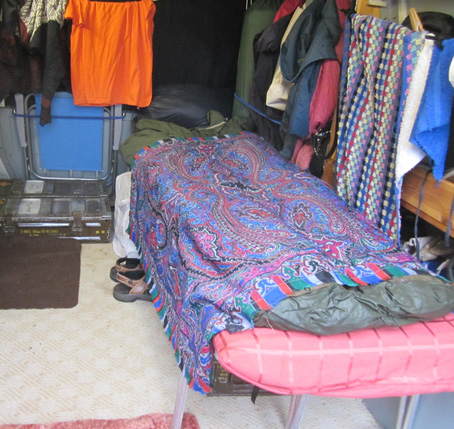 Using the bench as a bed...
...or just the mattress on the floor.
Good night everybody!